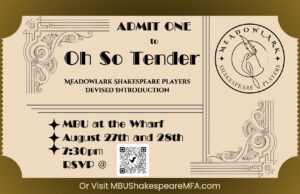 Oh So Tender
Meadowlark Shakespeare Players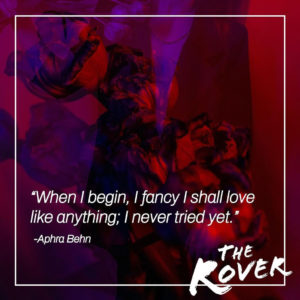 The Rover
Mary Baldwin Shakespeare & Performance
Meadowlark Shakespeare Players
2023-24 MFA Company at Mary Baldwin Shakespeare & Performance
Doctor Faustus
Mary Baldwin Shakespeare & Performance
2023
September
Classes have officially begun for my final year at Mary Baldwin University in the Shakespeare & Performance Program!
As an Acting Concentration within our MFA company, Meadowlark Shakespeare Players, I will be taking on a number of acting roles in shows our company is producing, but I am also working on several committees during the season, including Publicity and Marketing as a graphic designer (with Johnny Williams III as my co-designer), as well as our Touring Committee when we begin to tour our Education and Small-scale shows to area schools and other venues. In the Spring I will also be working on the Festival Committee, which organizes our week-long festival where we bring back shows from our season for back-to-back performances (so catch us them if you miss us this fall!)
This fall my two acting tracks are as Hermia in A Midsummer Night's Dream for one of our Education touring shows, and then Norfolk and a bunch of other characters in Henry VIII as a small-scale genre, where no more than 6 actors play all the characters of a play. Both roles are exciting and I'm ready for the learning curve and challenging growth I'll find in each.
AUgust
After a month of physical training intensive, delving into the techniques of Viewpoints and Suzuki actor training, the Meadowlark Shakespeare Players are off to the races!
We spent half our time during August-term in intense physical training, 3 hours every morning building muscles, mental awareness and connection with our own bodies and those in the rest of the company. The afternoons were spent devising, creating physical vignettes and pieces that grew into our season opener show, Oh So Tender. A film noir inspired physical theatre piece, Oh So Tender followed the Larks as a series of character archetypes through a murder mystery at a club, with twists and turns galore.
April/May
We've done it, folks! We have a company! Meet a member of the newly-minted Meadowlark Shakespeare Players, the MFA Company in residence at Mary Baldwin University's Shakespeare & Performance Program. In a 3-week slam into our MFA year during May-term that included both company building and dramaturgy, we created a mission statement, chose a season of 7 plays, assigned production and committee roles and ironed out the first details of our season to come! Keep your eyes peeled for more details to come!
FebruarY
Another show in the books on the Blackfriars Stage at American Shakespeare Center. I was lucky enough to act in a staged reading directed by Hailey Pearce of Marlowe's Doctor Faustus as part of our Second Year Showcase at Mary Baldwin Shakespeare & Performance playing both the Second Scholar and the Knight for a late night spooky "drag Faustus to Hell as the clock chimes twelve"!
February
After a month and a half of rehearsals, we finally opened our Second Year Showcase double header of The Rover and The Spanish Tragey at Mary Baldwin Shakespeare & Performance. I played Valeria in the Rover, directed by Alaina Smith, as well as helping out with costumes as well as designing the Saloon doors we used in our Gold Rush setting of this production.
January
We're half-way through my MFA program at Mary Baldwin University, folks! I've gone 3 semesters of straight A's, and I am immensely enjoying the work here again. I've taken classes in Voice, Movement and Combat, alongside more academic ones. I've been lucky enough to take two independent study classes this year, one in writing solo performance pieces and the other as an independent study of movement and voice in conjunction with acting, and I can definitely feel my craft improving.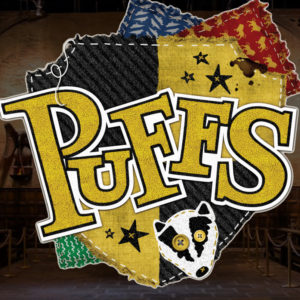 Puffs or seven increasingly eventful years at a certain school of a magi c and Magic
Silverline Theatre Exchange
Dragon Eggs
Dragon Productions
Women+ in Theatre Conference
Hosted by Rep Stage
Pericles
Mary Baldwin University
2022
August
Wands at the ready! I'm so excited to be joining the cast of Puffs, or Seven Increasingly Eventful Years at a Certain School of Magic and Magic at Silverline Theatre Exchange. We start rehearsals mid August and perform during the Queen City Mischief and Magic Festival in September! I'll be donning my robes as Megan Jones, self-proclaimed least-Puff-iest-Puff, and channeling my inner teenage rebellion to do so.
Check your calendars! I will be reading for Patricia in Sing It Out Loud for the Women+ In Theatre Conference, hosted by Rep Stage and Howard Community College on August 20th! It's all on Zoom, so feel free to sit back and watch me from the comfort of your own home! Register to attend the conference here.
JULY
After a quick email conversation with the playwright, I'm pleased to say I'll be reprising my role as Patricia in Sing It Out Loud in another new play festival in August! More details to come!
April
Catch the Replay of Dragon Eggs here. I loved taking on the roles of Lau in A Tragedy of Owls and Patricia in Sing It Out Loud.
Far overdue, but my first year at Mary Baldwin University's Shakespeare & Performance program has been quite the adjustment! It's been wonderful to throw myself back into classwork in elements I haven't trained in in years and also to stretch my mind, body and voice in ways I have yet to be challenged. My favorite class by far has been The Body In Performance, where I've been surprised to find myself still open and receptive as a physical instrument despite the many years' gap between intense use in this way.
Our cohort is about to put on our production of Shakespeare's Pericles for our final for REN 531, Performance of Language, and then I'm heading straight into rehearsals for two new play readings for Dragon Productions' Dragon's Eggs development series in the same week! No rest during finals week it seems!
2021
JUNE
Wow am I overdue for an update! This spring has been extremely full, from auditions and callbacks for graduate programs to a million emails with faculty to figure out where I'd fit best and would serve the trajectory of my future that I'm hoping for, but I am extremely pleased to be heading to Mary Baldwin University's Shakespeare & Performance program this fall for my second M.F.A!
In the in between time from connecting with my future grad school cohort online and packing I was also privileged to take part in Imprint Theatreworks' new works festival, First Impressions, back in March! I've also got a big project in the works with a friend of mine also starting his MFA in Chicago this fall – but that's all the tease you'll be getting for the moment!
50 Feral Hogs
Imprint Theatreworks
Shakespeare & Performance
Mary Baldwin University